Tonto Dikeh's birthday is coming soon and she will be gifting herself a new pair of boobs. According to her, this going to be the one gift she would be presenting herself.
She shared the screenshot below and wrote;
"Dear lord Jesus,
I have all i want for now..
My birthday wish is that you make me schedule and that of Dr Ayo allign so i have my new boobs in jesus name i pray!!
Thanks in addy Lord #KINGTONTO#KINGTONTOBIRTHDAYWISH#JUNE9TH #BUYING ME A NEW BREAST #BOOBSWISH #GEMINIBABY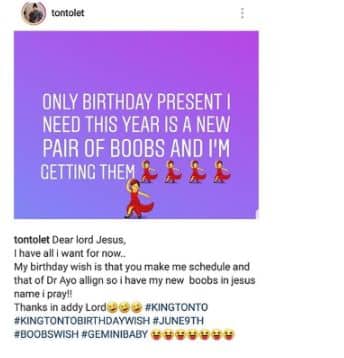 We can't wait to see how that turns out for Tonto when she finally gets her through with the desire to get a boob job.